A bit about Jeffrey Hannan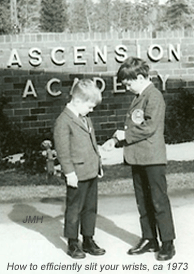 Born in Washington, DC, I live mostly in northern California these days. My fiction is often cloaked in humor but I'm ultimately interested in truth: what's real, what isn't, and who gets to define it. The relativity of place is an integral part of articulating that.
After years working in web technology, I still nurture a dream of fleeing for the wilds of Puna, Hawai'i, to tend to my nascent tea farm and whittle down a heady list of unfinished material in the shade of kukui nut trees.
Urinals & Uniforms
Raised in private school in northern Virginia, where we were instructed in proper toilet etiquette – along with Latin, Mandarin, French and the dissection of frogs – I have been writing since the 8th grade, when my first dramatic piece, a one-act play I self-published on a steno pad, was promptly filed away in my record by the Master of the Upper School and never again saw the light of day.
The Truly Long & Winding Road
An 11-year odyssey in pursuit of an undergraduate degree eventually found me earning, after attending 5 other schools, a BA in Literature/Writing (cum laude1) from the University of California - San Diego.
I eschewed graduate school largely due to factors of fatigue and poverty, and to a lesser degree because of a poor understanding of politics.
1 I remain vaguely bitter about having missed magna cum laude by a mere .025 but find solace in pulling weeds at my modest farmhouse in Hawaii and in slumming at the beaches of fine hotels of which I am not a guest.
Writing
A former book reviewer for the Gay and Lesbian Times, I've workshopped my fiction and personal narrative with Rae Armantrout, Quincy Troupe, Bernard Cooper and others.
I self-published my first novel, "HugoSF", in 2011. A tale of love and drudgery, it recounts the story of Hugo Storm, a hapless digiteratus who is drawn from rural New Jersey to California and gets sucked up into Internet 1.0. The sequel is unofficially in the works.
www.hugosf.com
Volume 1 of "The Punatics" is a recent creation. Set in a lush and somewhat fantastical version of the Puna District, on the Big Island of Hawaii, Prudence Overmeyer and her local Punatics live and love in the shadow of an active volcano. The online serial novel debuted on Valentine's Day 2014 and ran through mid-2016. Volumes 2 thru 5 have been sketched out; all they require for completion is time and a bit of money.
www.thepunatics.com
Work: Will Work for Airfare
To pay the rent – and to fund my writing and drinking in foreign lands – I design and implement digital user experiences. I'm a hybrid project manager, content strategist, digital strategist, and business analyst. Financial services is my specialty.
It's all exceedingly glamorous.
See my LinkedIn profile at: https://www.linkedin.com/in/jeffreyhannan/